OrionStar Robotics Expands US Market with POS Providers in Catering Industry
2022-11-14 11:52
Recently, OrionStar Robotics has reached a partnership with Golden Key POS (GKP), a Credit Card Processing and POS company with 25 years of local experience in the United States. The signing ceremony was held on November 10, 2022, in Atlanta, USA. This is strong proof of the steady expansion of OrionStar's business in the United States.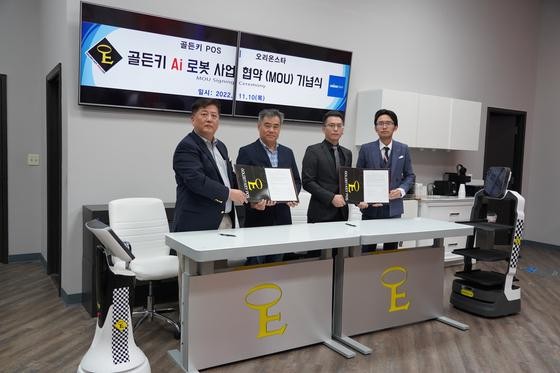 Golden Key POS, a Credit Card Processing and POS company with a Korean background, has been intensively cultivating American restaurants and is committed to providing cutting-edge technology to the catering industry.
Based on its understanding of American restaurants, GKP is optimistic about the application of robots in restaurants:
Robots can help restaurant staff deliver food and drinks, freeing them from heavy and repetitive work to personalized customer service, thereby alleviating the problem of difficulty in recruiting workers in restaurants.

Robot service is a very novel experience, especially for children and the elderly. It will attract more customers, which will increase turnover and customer satisfaction.
James Bang, the Sales Director of GKP, shared that "Woowa Brothers, the largest food delivery service provider in Korea, establishes a strategic partnership with OrionStar. In the past year, the pandemic not only did not hinder the development of the OrionStar business but on the contrary, its market share in Korea has grown by leaps and bounds. As OrionStar builds a good reputation in the Korean market for its excellent products and services, we are looking forward to future cooperation."
In the future, OrionStar and GKP will work together to provide intelligent solutions for US restaurants, reduce the manual labor burden of restaurant employees, alleviate the labor shortage in the catering industry, and also bring more novel experiences to dining customers.