Canadian Market Breakthrough:Browne Group Announces Strategic Partnership with OrionStar Robotics
2022-11-25 14:11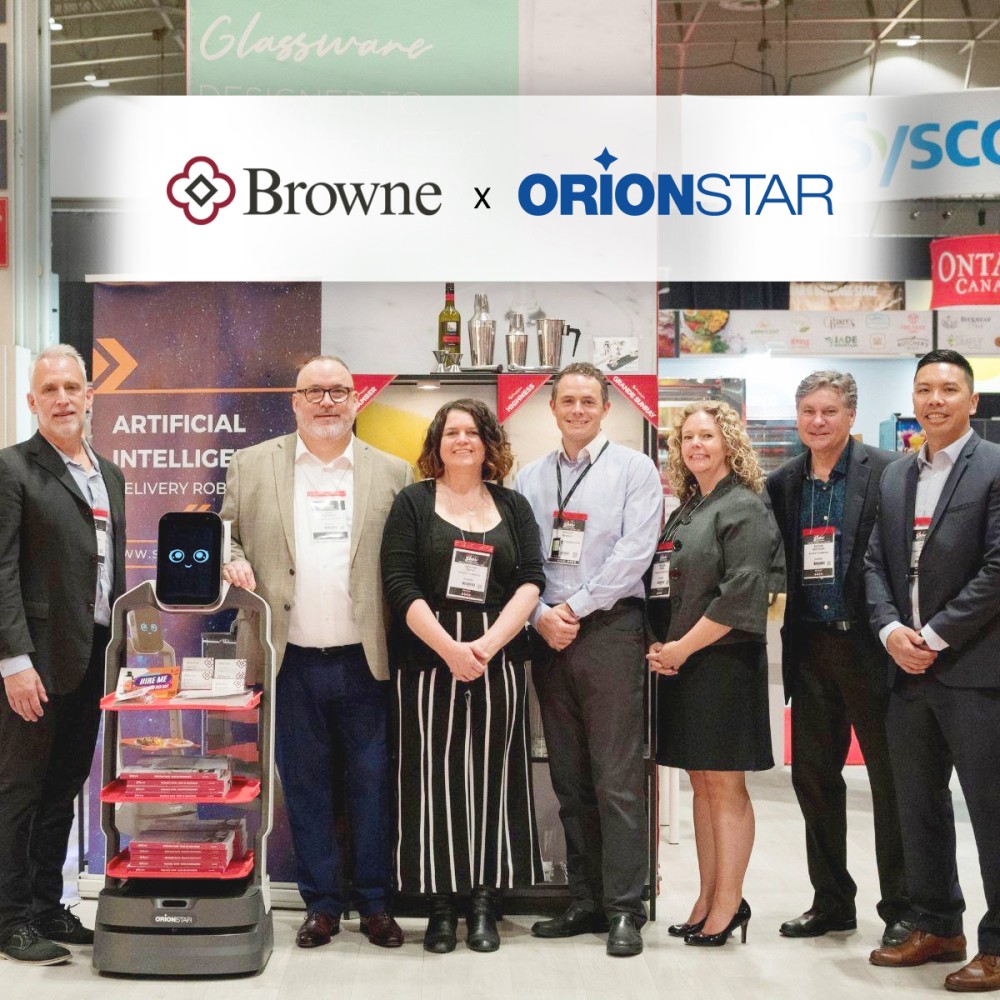 Browne X OrionStar
Browne Group Inc. ("Browne"), a Canadian distributor in foodservice recently announced its partnership with OrionStar Robotics to exclusively distribute service robots in Canada.
Part of Browne's ongoing strategy is to expand their product offering and services in areas that will provide maximum benefit to their customers and the foodservice industry. As a continuation of this strategy, Browne has launched a new Technology Division to support the emerging trend of service robots aiming to provide an interactive and innovative customer experience in the foodservice, retail, and grocery industries.
OrionStar is proud to be partnered with Browne as the exclusive Canadian distributor and admires Browne, a well-known company in the traditional industry, for its outstanding courage and foresight in embracing new technologies and new trends.
About Browne Group

For over 70 years, Browne has been committed to excellence in design and innovation. Throughout the years Browne's product selection has changed, but one thing that has always stayed true is their commitment to innovation in design, function and quality.
For additional information, please visit https://www.browneco.com


Why Robot
Due to the global pandemic, there have been a lot of challenges over labor shortages due to the economic impact over the past several years. Covid-19 has increased awareness of food safety. The need for high efficiency in the F&B industry is increasing the demand for automation. Companies are beginning to realize that service robots can increase efficiency and protect health by limiting human contact in certain tasks, such as food handling and preparation.
"The connection with our customers is important to us. Our mission is to provide innovative products and services that will meet their needs." said Dennis Poon, President & CEO of Browne Group Inc.


Why OrionStar
From the left: Said Mammadov-Operations manager, Sameer Chanana-Vice president, Larissa Lazare-Marketing manager, Jimmy Chan-Sales specialist, Haider Shubbar-IT specialist
Browne said, "For quite some time, we have been exploring service robots worldwide. As a global industry leader in AI technology, OrionStar robots are already available in many markets around the world. We have been very impressed with the usefulness of technology and the benefits already created in many market sectors. With various models available, the robots have applications for greeting, table service and bussing, direction and information support, communication and so much more! "
What's available in Canada
AI Delivery Robot – that is efficient in food delivery, greeting customers, automatic walking, accurate navigation, obstacle avoidance, voice interaction, and collaboration with multiple machines.

AI Greeting Robot – has the powerful interactive capability to detect the presence of people and take the initiative to greet and interact with them.

OrionStar is grateful for the continued trust and support of global partners. In the future, OrionStar and Browne will work together to cultivate the Canadian market and provide the best robot solutions for the intelligent digital transformation of related industries.
For more information, please visit en.orionstar.com For global marketing or press cooperation, please send an email to global_marketing@orionstar.com or follow us on social media: LinkedIn / YouTube
About OrionStar

Founded in 2016, OrionStar is a leading global service robot solution company with coverage in over 40 countries and regions. OrionStar is committed to creating the next generation of revolutionary robots based on AI technology so that people can be released from repeated physical workloads, making human work and life more intelligent and interesting, and making society and the world better with technology.

As of June 2022, 35,000 OrionStar robot employees have been employed, with an average daily voice interaction frequency of over 17 million times, serving over 400 million people. At present, it has been implemented in more than 20 industry scenarios, such as restaurants, shopping malls, supermarkets, enterprises, government affairs, exhibition halls, medical care, libraries, conventions and exhibitions, hotels, catering, real estate, schools, etc.